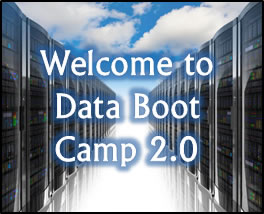 We here at MyDataBootcamp.com want to provide you with 50% off the new Data Boot Camp for School Counselors, Administrators, and Educators course (DBC 2.0). This second edition is bigger, better, and completely online.

DBC 2.0 is designed to help users be awesome
with Microsoft Excel and using data in their work.
The DBC 2.0 provides step-by-step instructions for learning tips, tricks, and shortcuts when dealing with data in your work as a school counselor, administrator, or other educator. (Actually, the program is valuable for anyone who wants to access, analyze, and report on data, especially in the area of sales.) Particular attention is given to using a popular spreadsheet program, Microsoft Excel™, which is designed to assist in making more informed decisions in one's work.
As a result of learning more about data and Microsoft Excel, you will be better able to monitor student progress and communicate to other stake holders about how your work is making a positive difference in the lives of clients.
All the videos have been updated using more recent versions of Microsoft Excel and PowerPoint (2010). In addition to the many descriptive pages, users have access to 39 videos of tutorial footage. Lots has been added since version 1.0 and the course is now fully online! You can learn more by visiting http://www.mydatabootcamp.com/
You can see a list of all the lessons and competencies included in the DBC 2.0 here. Also, see below to watch an introductory video.
Click here to purchase your two year pass at 50% off. The final price is only $11.
The direct link for purchase is:
Offer ends December 15, 2017
After you purchase, look out for a window that opens up in your browser to register with your own userid and password. Finally, check your email for a link to a confirmation. If you need, you can email me at support@mydatabootcamp.com.